Can you say ¼ pound cookies?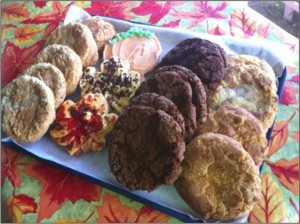 That's what we serve up here at the Farmhouse. All of our cookies are huge and could be a meal by themselves. We make all our cookies from scratch with the first ingredient always being LOVE!
We make for your eating pleasure the following choices….Chocolate Chip, Chocolate Chip with walnuts, Peanut Butter, Peanut Butter Chocolate Chip, Oatmeal Raisin, Pumpkin, Persimmon, Persimmon Spice, Chocolate Crackle, Snicker Doodle, Molasses Ginger and Frosted Sugar Cookie.