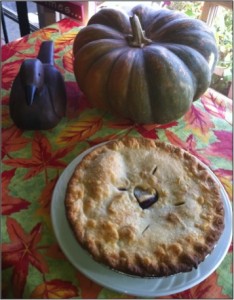 Our pies are made 100% from scratch. We make our pies one at a time, every pie is hand rolled, we mix all our own ingredients and we get our fruit fresh from the farm.
A few examples of our pies are….Our most popular the Olallieberry. This is a blackberry that is large and not very seedy. Our apple pies are made with Fuji apples. We peel, cut and core each apple that goes into all of our apple pies. We make fresh peach pie with the peaches that are grown on our farm. We use yellow, white, sometimes a nectarine or two as well as cling peaches in this favorite summer dessert. It's the blending of the fruit that makes the peach pie so yummy.


Other flavors
…Strawberry Rhubarb, cherry, apricot, Rhubarb, Dutch apple, Caramel Walnut Apple and Blueberry
Sugar Free Pies
…Olallieberry, Apple, Peach, Strawberry Rhubarb, Rhubarb and low sugar Cherry
Cream Pies
…Banana, Chocolate, Banana Chocolate, Lemon, Key Lime, Coconut and Pumpkin Chiffon, Lemon Meringue
Seasonal
…Pecan, Pumpkin, Walnut, Mincemeat, Fresh Strawberry and Fresh Peach
Special Orders
…We can also make a pie of your choice that may not be on our list.